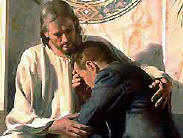 "Lovers of pleasure more than lovers of God; having a form of godliness, but denying the power thereof" 2 Timothy 3:5
"Lovers of pleasure more than lovers of God" Can you think of a better way to describe Americans? The citizens of this country spend billions of wasted hours in front of the television or computer screen, going to theaters or amusement parks, seeking pleasure wherever it can be found. Drugs, alcohol, concerts, and shopping malls; This planet has gone crazy for pleasure! Many young people complain of boredom when they don't have some kind of visible or audible stimuli to entertain them.
The Bible also tells us that the end time generation will have "a form of godliness, but will deny the power thereof". We live in a country where we claim the words "In God We Trust" and we sing "God Bless America", but the majority of Americans deny the power of God in their everyday lives. Sure, we may get together and pray when something goes wrong and we may attend church a couple times each year on Easter or Christmas, but does this qualify us as a Christian?
Jesus delivered some very sobering words in Matthew 7:21 "Not everyone that saith unto me 'Lord, Lord' shall enter into the kingdom of heaven, but he that doeth the will of my Father which is in heaven." Christ said that being a Christian is more than just saying that we believe in Him. Jesus taught that there needs to be application; our lives will be changed so that we reflect the principals of heaven. Let's look at John 1:12, "But as many as received Him, to them gave He power to become the sons of God, even to them that believe on His name." The Bible tells us that if we truly believe in Jesus Christ then His power will be active in our hearts, transforming us into holy people.
But Paul plainly explained that the last day world would have a form of godliness, but they would deny the power. Today, so many are denying the power of God, telling people once they become Christians they can just go on living the same way they always have without allowing the power of Jesus Christ to come in and change their way of life. This is denying the power of God and is a direct fulfillment of Bible prophecy. The Bible says that Christ came to set the captives free and He wants to deliver His people from sin, to liberate us from those addictions and bad habits. This popular teaching, that once we have been saved we can live any way we choose as long as we ask for forgiveness, this is really unfortunate. Jesus gave His very life so that we can be forgiven and receive salvation. We cause the Lord a great deal of grief and sorrow each and every time we sin. But, according to the Scriptures, this is another convincing sign that we are living in the time right before Jesus is going to come back.